WHAT WE DO
Snowshoe Heating specializes in sales, repair and service for oil-fired direct vent heaters and we handle a range of Toyotomi's popular semi-on-demand oil water heaters for domestic and in-floor heating applications. We also sell high quality electric and non-electric direct vent propane heaters. We offer various models of wood stoves and fireplace inserts, as well as several models of well engineered pellet stoves. We are one of just a few dealers in the state for an innovative non-electric pellet stove--the Wiseway, see below.

We guarantee our work and we receive excellent knowledge base support from our distributors, chiefly Rural Energy Enterprises of Alaska. Our sales and service area is the Copper Basin of Southcentral Alaska (Nelchina, Glennallen, Kenny Lake, McCarthy, Gakona, Slana and surrounding locations). You will find our prices comparable to or better than Anchorage and the Mat-Su Valley--heater sales keep us in business and give you the advantage of local warranty work if it is needed. Check out our prices and delivery options before you buy.


WISEWAY NON-ELECTRIC PELLET STOVE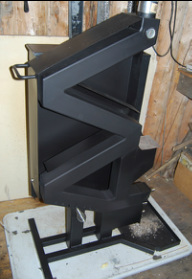 This stove, engineered in Oregon, is EPA certified and UL listed. It is the first stove of its type in the country. The Wiseway is gravity-fed from a hopper that holds 40# of wood pellets. There are no moving parts--the stove achieves its clean burn with natural draft through a 4" standard chimney installation. It is rated to produce 57,000 maximum BTU/hour. A water jacket (yes--also shaped like a "W"!) can be ordered so you can produce hot water with your stove. There's a protective front screen available.

We grabbed the first Wiseway we saw and put it into service in our shop. We were so impressed with it that we have become dealers. This stove would be ideal for off-the-grid installations. It can burn 12-30 hrs, depending on setting, on a hopper load of pellets. In cleaning and attention-care, it is somewhere between a standard pellet stove and a wood stove. It weighs just 113 pounds, so it is easy to transport. Call us and we'll tell you more about it.

---
TOYOSTOVE DIRECT VENT OIL HEATERS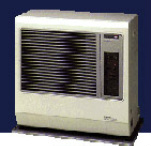 The Toyostove Laser heater series offers amazingly efficient space heating with #1 heating oil or kerosene. They are easy to install, operate, and maintain, making them a favorite choice for hard-to-heat living areas, houses, garages and cabins. Toyostove Laser vented heaters are certified for installation in mobile homes and manufactured housing. Choose from these models and styles: Laser 30, Laser 60AT, Laser 56, Laser 73AT and the Laser 73 (delivering 40,000 BTU). We also sell the Toyotomi Oil Miser-23 heater which can use #1 or #2 heating oil.
See the Heaters
---
DIRECT VENT GAS HEATERS

Direct-Vent Wall Furnaces from Rinnai. Enjoy clean, comfortable and consistent heat all winter long. Rinnai heaters in seven sizes, ranging from 8,000 to 38,700 BTU, deliver energy-efficient warm air to hard-to-heat areas, houses, garages and cabins. Flue installations only require 3" through the wall.
We also sell direct-vent gas heaters made by HomComfort which do not require electricity. Need product or pricing information?
Contact Us
---
OIL MISER SEMI-ON-DEMAND OIL FIRED WATER HEATER SYSTEMS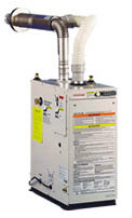 The OM-122DW and NEW OM-148 water heaters can be installed as sealed combustion direct vent units or with a vertical chimney system. The Toyotomi/Oil Miser water heaters are classed "semi-on-demand," which means only a small amount of hot water heater is stored and the hot water source is continuous, with energy savings up to 70% of conventional water heating. Like all Toyotomi products they are safe, reliable, and easy to install. Many of our neighbors are installing these efficient water heaters for their domestic hot water needs. For details,
Contact Us
---
OIL MISER 128 and 180 HYDRONIC HEATING & DOMESTIC OIL FIRED WATER HEATERS

The Oil Miser 128 (compact) and 180 units from Toyotomi USA, Inc. are designed to meet domestic hot-water and hydronic heating needs while saving money. The units may be installed with a direct or chimney vent. Burning No. 2 heating oil, No. 1 fuel oil or kerosene, the units provide continuous hot water at up to 240 gallons per hour. Energy Star rated. Planning in-floor or other hydronic system heating? Contact Us

---

ERGOMAX HEAT EXCHANGER


The Ergomax uses thermal storage and turbulence to heat water instantaneously on demand. It can be connected to any source of heat such as boilers (gas, oil, electric), solar, geothermal etc. Ergomax is the only unit that can, at the same time, heat domestic water; be used for space heating (baseboard and radiant); and buffer boilers to eliminate short cycling (saving fuel). Boiler water fills and is circulated through the Ergomax tank, thus eliminating scaling and corrosion, ensuring that the Ergomax/boiler combination will always operate at maximum efficiency.


---
WOOD STOVES AND FIREPLACE INSERTS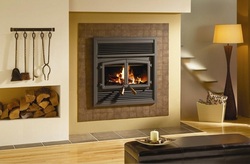 We sell Drolet and Osburn wood stoves, wood fireplaces, and fireplace inserts. These range from small cabin heaters to large capacity, high efficiency parlor stoves and fireplaces for your home. We will connect you with information and spec sheets for these products so you can compare with other brands and pricing.

---
RECREATION AND BACK-COUNTRY LIVING

Many rural residents and "snow birds" live without electricity or use tents and cabins in the back-country. We offer non-electric oil-fired tent and cabin heaters, propane heaters, passive circulation fans, and wood stoves made by Drolet, Century, and Osburn. This Drolet wood stove is perfect for heating up the cabin and the coffee water! Another popular back country or marine stove is the NordicStove non-electric oil heater--models from 8,000btu to 40,000btu--it weighs only 25-30 pounds, and can hook up to a portable 15 liter fuel tank.
Contact Us
for details and prices.
---